On Jewish life/against anti-Semitism.
Seminar on the topic of "Anti-Semitism"
Duration by arrangement, approx. 1-3 hours, depending on format.
Topics to choose from:
Anti-Semitism, what is it anyway?
Anti-Judaism in Christianity and Islam – origins, narratives and the consequences
Modern anti-Semitism: Anti-Zionism and hostility towards Israel in the middle of society
Modern Anti-Semitism: "Islamist Anti-Semitism"
"The Middle East Conflict": Facts, Historical Classification and Perceptions
Dangers of modern conspiracy theories
The set for events consists of the following modules:
Interactive learning forum, work with texts, pictures, films, etc. in groups with supervision by the team.
Day seminars on several topics with the training team
Workshops on debating and arguing
Costs by arrangement
"Preserving humanity! Sensitising and strengthening communities"
Trainings in a 60-minute hybrid format or as a half-day or day seminar (3 or 5 hours).
This format highlights the narratives of Nazi misanthropy in relation to anti-Semitism and Ableism – discrimination against people with disabilities.
The narratives, narratives and images that led to euthanasia and the Holocaust and are still digitally disseminated today will be explained.
Currently free of charge.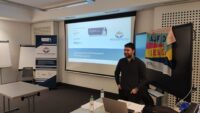 "Gesher" (Hebrew: "bridge") – Intercultural Education and Encounter
The European Janusz Korczak Academy offers a forum for intercultural and interreligious encounters. We would like to make Jewish culture, tradition and Jewish self-image accessible and tangible in peaceful coexistence and to enter into dialogue with others. Respectful interaction with one another gives the multicultural society the opportunity to unfold the potential that lies dormant within it. It is a challenge in every respect and even a functioning democracy has to strive for it every day. But the opportunities it holds are also worth doing something about!
"Gesher" organises, among other things, lectures, encounters, excursions and exhibitions within the framework of its intercultural forum, which are explicitly aimed at a broad audience. You are also welcome to ask us about a separate meeting with your group. Feel free to write us your request at: evahaller@ejka.org.
"Myth-Oh-No!" – An interactive game for teenagers and young adults
Duration: 1.5 hours
Content: The topic of "conspiracy myths" has become much more virulent since the beginning of the pandemic. The EJKA has taken up this phenomenon in a project with youths and young adults and, in cooperation with the Hanns Seidel Foundation, has developed a card game that focuses both on dialogue with suspects and on prevention. Based on the popular "Yu-Gi-Oh" franchise game from Japan, a "Myth-Oh-No!" card game was designed that illustrates and summarises the most popular conspiracy myths. For each summary card there is also a counter-question card with which the myth can be debunked. The game is suitable for educational use in schools, youth centres or other organisations and for groups of up to 42 players.
Costs by arrangement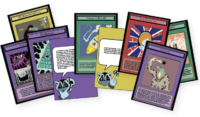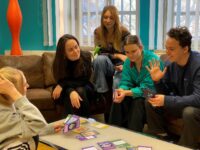 Workshop Respect – Dialogue – Participation: Meeting conflicts with Janusz Korczak
Duration by arrangement, 3-6 hours
Are you active in a group or community? Do you work with young people or families? Are you involved in intercultural or interreligious work? Do conflicts arise and do you want to learn how to deal with them or avoid them in the first place?
Our offer combines concepts of conflict management with the pedagogical approaches of Janusz Korczak. Korczak (1878-1942) was a Jewish-Polish writer, child rights activist, doctor and educator. His principles of education – respect, justice, dialogue, participation and self-reflection – are the foundation of our work.
In our workshops or seminars, the following elements will be conveyed to you, depending on the content and duration of the event:
Get to know Korczak's approaches and action strategies for conflict management as well as methods of Korczak pedagogy.
Theories of de-escalation in groups, practical exercises e.g. in role plays, practical and theoretical knowledge from the field of intercultural communication, rhetorical and argumentative skills, techniques of non-verbal communicationю
This offer is carried out by 1 to 2 expert speakers. Duration of the offer by arrangement.
Costs by arrangement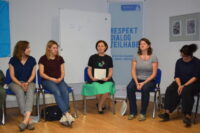 Interactive educational offer for children: The Janusz-Korczak-Box
Duration approx. 1.5 hours, or by arrangement
The "Janusz-Korczak-Kiste" is a project of the EJKA which provides an opportunity to learn about the life and pedagogical ideas of Janusz Korczak by simple means and to be inspired by them. The box is modelled on Dom Sierot, Korczak's orphanage in Warsaw, so that a spatial impression can also be conveyed.
Offer 1 for children:
A simple box full of things that can be used to tell stories about Korczak arouses curiosity as well as creativity. The outer wall of the box uses texts and pictures to bring Korczak's time closer. When the lid is opened, a miniature view into the lives of the orphans of that time is possible. Small objects that the children can take in their hands motivate them to ask questions and tell stories. The box then quickly hands over the reins to the children around it.
Offer 2 for adults (e.g. teachers, multipliers):
The box offers the possibility to tell about Korczak's life and work in a vivid way. It is also an example of how his written testimonies, photographs of his life, the memories of contemporary witnesses, etc. continue to release creative forces and allow "things" to emerge "in his spirit". The box can be seen as a suggestion for next possible Korczak projects for children as well as adults that go beyond the purely textual.
Costs by arrangement